ULTIMATE PERFORMANCE POWER FLEX™ CABLE
Maximizes Low-Loss, High-Current Power Transfer to Power-Hungry Amplifiers for Ultimate Performance
Description
ULTIMATE PERFORMANCE POWER FLEX™ CABLE
Maximizes Low-Loss, High-Current Power Transfer to Power-Hungry Amplifiers for Ultimate Performance
DuraFlex® Ultra Flexible jacket construction makes this cable very flexible for ease of installation
Patented Magnetic Flux Tube® for higher instantaneous power transfer
Oxygen Free copper stranding for increased current transfer
Heat-resistant temperature 105°C
Mobile entertainment components, especially amplifiers, demand increased power that varies with the dynamics of the sound. Delivering optimal power without distortion and with minimal loss is vital to performance – especially in multi-amp and subwoofer systems. Featuring patented Magnetic Flux Tube® technology, Monster PowerFlex Power and Ground Cables maximize power transfer to your amplifiers for improved sound quality with tighter bass response and increased dynamic range. Oxygen free copper and special winding configurations further optimize amplifier performance by reducing noise pickup so all you hear is the sound of entertainment.
Oxygen Free Copper Stranding
Lowers resistance for increased current transfer; super-fine stranding bends around corners for easy installation
Ptented Magnetic Flux Tube®
Minimizes effect of distortion-producing electromagnetic fields for higher instantaneous power transfer and improved performance
Special Winding Configuration
Oxygen Free Copper and a special winding configuration help reduce noise pickup
Duraflex® Ultra Flexible jacket
Flexible for easier installs and maximum durability; resistant to heat, chemical and temperature extremes
Line-up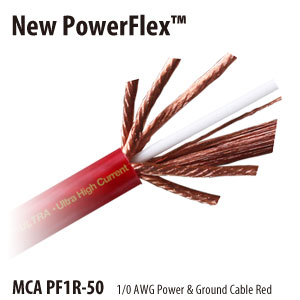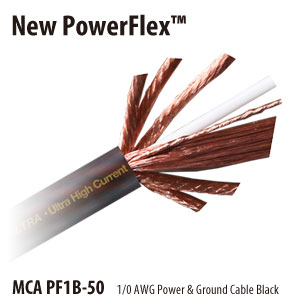 MCA PF1R-50 : 50ft. PowerFlex 1/0AWG Red Bulk Cable – 15.2m
MCA PF1B-50 : 50ft. PowerFlex 1/0AWG Black Bulk Cable – 15.2m
Specifications
MCA PF1 (1/0AWG Red and Black)
・Outer Diameter : 17mm
・50ft.-15.24m Bulk Spool
MCA PF4R-125 : 125ft. PowerFlex 4AWG Red Bulk Cable – 38.1m
MCA PF4B-125 : 125ft. PowerFlex 4AWG Black Bulk Cable – 38.1m
Specifications
MCA PF4 (4AWG Red and Black)
・Outer Diameter : 11mm
・125ft.-38.10m Bulk Spool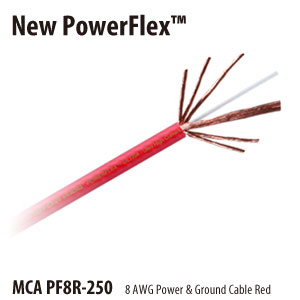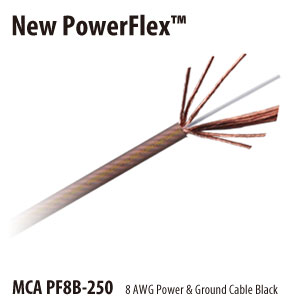 MCA PF8R-250 : 250ft. PowerFlex 8AWG Red Bulk Cable– 76.2m
MCA PF8B-250 : 250ft.PowerFlex 8AWG Black Bulk Cable– 76.2m
Specification
MCA PF1 (1/0AWG Red and Black)
・Outer Diameter : 17mm
・50ft.-15.24m Bulk Spool